Formal Concept Analysis Homepage -- Table of Contents/Sitemap -- Uta Priss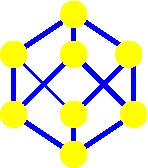 ---
Formal Concept Analysis Homepage
Formal Concept Analysis (FCA) is a mathematical theory of data analysis using formal contexts and concept lattices. The contents of this site can be accessed by clicking on one of the red objects in the concept lattice below or via the table of contents.

On-line demos: FCA Demo, Concept Neighbourhoods in Roget's Thesaurus and WordNet.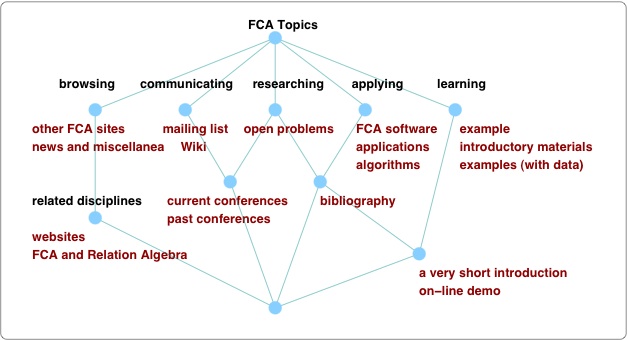 Current Conferences on Formal Concept Analysis
CLA 2022 Tallin, Estonia, June 2022. (permanent CLA website).
ICCS 2022 Münster, Germany, September 2022.
FCA4AI Vienna, co-located with IJCAI, July 2022. (Caution: I am not sure whether the link is safe)
ICFCA 2023 in Kassel, Germany. There will not be an ICFCA conference in 2022!
Conferences with special sessions/workshops on FCA:
Diagrams conference series
CARLA workshop series
Mailing List
Information about the
Formal Concept Analysis mailing list
Links
FCA Software
Older Versions of this Website
Older versions of this site are available at archive.org.
---
Copyright 2007. Uta Priss
www.upriss.org.uk
Please send comments about this site to: