Formal Concept Analysis Homepage -- Table of Contents/Sitemap -- Uta Priss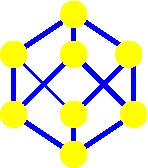 ---
FCA software interoperability
The FCA community has produced a fair amount of FCA software, but more work needs to be done with respect to improving the interoperability among FCA tools and between FCA tools and other tools for data storage and exploration (spreadsheets, databases, mathematical and statistical tools, etc).
FCA Software Interoperability Workshop at the CLA 2010 Conference
"This Workshop will provide a discussion forum for researchers and developers who are interested in the integration of FCA and Computer Algebra System software, such as Sage and Matlab, or other mainstream tools (database, spreadsheet, ERP ...). The purpose is to determine what the FCA community can do to improve the interoperability of FCA tools with other existing tools in order to make it easier to use FCA with such tools."

Presenters:

Simon Andrews: FcaBedrock - Interoperability via spreadsheet (CSV) data
Daniel Borchmann: Software Interoperability via Read-Eval-Print-Loops
Uta Priss: Integrating FCA Software and Sage
Francisco Jose Valverde Albacete: Matlab Toolbox for FCA & Co

Links to previous workshops on FCA software and Conceptual Structures Tool Interoperability (CS-TIW) can be found under Conferences/Workshops on the FCA Bibliography page.
Wiki
We have a Wiki for discussion at this address. (A copy of content from a previous wiki about FCA file formats is here.)
---
Copyright 2007. Uta Priss
www.upriss.org.uk
Please send comments about this site to: