Formal Concept Analysis Homepage -- Table of Contents/Sitemap -- Uta Priss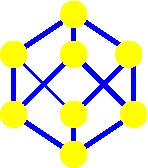 ---
Contents: Applications and Demos -- Software -- Plugins
Links: FCA Algorithms -- Discussion Forum
FCA Software
Formal Concept Analysis Applications and Demos
Formal Concept Analysis Software
FCA Topics page on Github
Downloadable software:
ConExp Concept Explorer (Java) at sourceforge (the source code can be found in the cvs). Apparently this software does not work with OpenJDK.
ConExp FX a partial reimplementation of ConExp by Francesco Kriegel
ConExp-NG, packaged release download, reimplementation of ConExp by Robert Jäschke's students, (uses FcaLib), Fcatools
Conexp-clj by Daniel Borchmann
FcaStone format conversion software and command-line lattice generation
Camelis (Logical Information System based on FCA)
Christian Lindig's Colibri (Java or ML), Concepts (in C) its github clone
concepts.py Dominik Endres' implementation in Python.
Python FCA Tool (developed at HSE, Russia). Python code for exploration developed by A. Revenko: MIW.
Python implementation: concepts by S. Bank
GALACTIC. A set of python3 packages for studying Formal Concept Analysis by K. Bertet, C. Demko and others.
Coron System (data mining software)
Csx2tikz (XSLT conversion from ToscanaJ format to tikz/LaTeX)
FCA4J (A jar containing a set of Java algorithms to compute concept lattice, Iceberg Lattice, AOC-poset, Duquenne-Guigues Basis)
FcaBedrock (tool for creating contexts from csv files)
fcaR An FCA package written in R by D. Lopez and A. Mora
FCART (Link: https://cs.hse.ru/en/ai/issa/proj_fcart) Formal Concept Analysis Research Toolbox (for PC).
In-Close (fast Formal Concept miner)
Lattice Navigator (lattice visualisation and context editing, written in C#)
OpenFCA (using C, .Net, Flash), Video demo
QDFCA (command-line filter in Ruby)
RCAExplore for Relational Concept Analysis.
Plugins/Tools for using FCA with other software
FCA Extension for Excel (with screenshots and video)
Old FcaView Tab plugin. A Conexp plugin for Protege.
OntoComP Another Protege Plugin; implements attribute exploration. Also by the same author: FcaLib (Java Library) .
FcaJava (eclipse plugin for exploring java)
seem to be no longer available: Mail-Sleuth
(a commercial FCA Outlook Plug-in), Hiermail (similar to Mail-Sleuth but free for academic use) Other Software:
AnalyzeSkills. Matrix decomposition used for extracting skills in knowledge space theory. Written in C.
Cernato (commercial software) by former company NaviCon. Available via Ernst Schroeder Zentrum.
ConImp, Toscana, Anaconda, FCA Library, Diagram, MBA (former FCA group of the TU Darmstadt), only ConImp is still available.
CG-FCA Converts conceptual graph in cgif format to cxt format.
epi-ACE (for "examining the hierarchical data structure of small epidemiological data sets").
Galoisexplorer by Sebastian Breuers ?, looks interesting, but no documentation as far as I can see.
GLAD (General Lattice Analysis and Design), a DOS program, available from Vincent Duquenne.
JaLaBA (On-line Java lattice drawing tool).
Jupp's FCA (not yet released, but looks interesting, developed in Python)
QuDa (for data mining by P. Grigoriev, S. Yevtushenko).
Scola (Shell for Contextual Logic Applications).
Semana (software for semantic analysis which includes an FCA tool).
Yacaree (association miner, not a typical FCA tool, but uses an iceberg lattice of frequent closures internally, written in Python).
Mutabor Software for playing music with micro tones. Not related to FCA but also a project started by Rudolf Wille (the founder of FCA).
---
Copyright 2007. Uta Priss
www.upriss.org.uk
Please send comments about this site to: