Formal Concept Analysis Homepage -- Table of Contents/Sitemap -- Uta Priss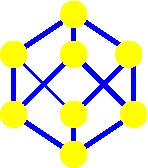 ---
A Formal Concept Analysis Demo
The names of the objects and attributes and the relation can be edited. Please, use the browser's back button after viewing the lattice. Internet Explorer users need a plugin to view SVG. All other modern browsers support SVG.

This software is implemented using FcaStone. The graph layout is achieved using Graphviz.

A demo with more features is available here.
---
Copyright 2007. Uta Priss
www.upriss.org.uk
Please send comments about this site to: